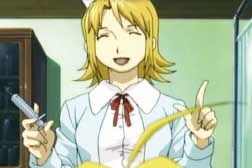 'The New Hotness'
Hammergirl Anime Top-Tier Deck
EvilTaxi, Hammergirl Anime

Leaders (3):
Psiren, Shameless Flirt
Psiren, Trickster
Psiren, Folk Hero

Locations (9):
Altar to Leto
Country Station
Empty Fountain
High Command
Idyllic Pastures
Ishbal Ruins
Refugee Camp
Riverside
Youswell Inn

Allies(* = Starting) (28):
2x Adoring Fans, Big Distraction
1x Beast in the Dark, Cornello's Pet*
3x Claire, Devoted Nun
3x Claire, Nurse
3x Claire, Schoolteacher
3x Claire, Selfless Benefactor
2x Edward Elric, Executioner
2x Inspector, Citizen of Aquroya
2x Lyra, Budding Talent
3x Militia, Citizens of Liore
2x Rebel Infiltrators, Eastern Liberation Front
2x Rebel Sergeant, Eastern Liberation Front*

Events (27):
2x A Clue for the Search
2x Aflame
2x Cage
2x Challenge the Sun
2x Deeds, Not Words!
3x Frenzy
3x Out the Window
3x Pressure
2x Quick Draw
2x Rally the People
2x Spoils of War
2x Train to Aquaroya

Attachments (4):
2x Automotive
2x Rebel Brand

Advantages (4):
2x Lead by Example
2x Wheedling

------------
Strategy (General):
The basic strategy is to hit them fast and hard, either winning by locations or by killing all of their characters. If at any point in the game you get them to one ally remaining, play A Clue for the Search to get Ishbal Ruins out. With all of the Claires having Strength, Wits, and Alchemy, triple threat locations are favored right after Strength locations.

Strategy (Specific):
Alchemy:
Use Challenge the Sun to kill off their high Alchemy/low Strength characters, then use Militia to take care of the rest. If Alchemist Testing Grounds comes up, either have Automotive handy or play A Clue for the Search to get something else out, preferably Youswell Inn or Empty Fountain. Beat them down fast and keep on the pressure, both gamewise and psychologically.

Homonculus:
By far the most difficult faction to play against. Keep Pressure handy at all times to counter Persuasion. Use Cage to cancel Mugear's ability or Challenge the Sun if you don't think you can win the battle. Keep their Main Phase to a minimum to ensure victory.

Rebel:
Mirror matches are tricky. Throw your hand if you don't have at least two of the following: Militia, Challenge the Sun, a battle pump, or Wheedling. You must come out on top in battles because they also most likely have pumps.

Master Manipulator:
Win early. Use Inspector on everything. Other than that, apply the same strategies as you would for an alchemy deck.

Admin/Bloch:
Laugh. Most of your allies have 5 or lower cost, so just keep dropping them down. Pressure Bloch when you want to play a 7 cost ally, but don't rely on them to win you the game.

Military Beatdown:
Use Challenge the Sun to take out Hakuro and Yoki ASAP. Beware of the Suppressing Fire though, so have Frenzy or Out the Window to secure victory. Without these two key allies, you can just beat them down in Strength.

----------

Ally Details:
Adoring Fans, Big Distraction - Sacrificial lamb, although they can win if your opponent underestimates them.
Beast in the Dark, Cornello's Pet - Best 2 cost starter available.
Claire, Devoted Nun - Everything costs less, plus good Wits/Alchemy and a chance to recruit at level 2? Yes, please.
Claire, Nurse - Strong attributes and the ability to fetch mobs from your discard pile.
Claire, Schoolteacher - Strong attributes and the ability to switch something from your hand for something potentially more useful.
Claire, Selfless Benefactor - Decent ability and attributes, used to heal other Claires
Edward Elric, Executioner - Permanently kill allies like Hakuro or Lust.
Inspector, Citizen of Aquroya - Stop location control.
Lyra, Budding Talent - Keep on the pressure by not letting your opponent draw.
Militia, Citizens of Liore - Bread and butter of the deck, ability to be strong in any attribute.
Rebel Infiltrators, Eastern Liberation Front - Good attributes for a 4 cost ally, cut Military's wits in the search phase.
Rebel Sergeant, Eastern Liberation Front - +1 Strength to all mobs.

Attachment Details:
Automotive - Move people sent home right back in or move in mobs fetched by Claire, Nurse.
Rebel Brand - +1/+1/0 and the ability to add +2 to everything.

Event Details:
A Clue for the Search - Use this only as a last resort or to win the game that turn.
Aflame - Best attachment hate card available to Rebels.
Cage - Rebel Sergeant usually can't take a Challenge the Sun without a Frenzy handy.
Challenge the Sun - Kill off someone of your choosing.
Deeds, Not Words! - People still play cancels.
Frenzy - Extremely strong battle pump. Helps you win at those damned alchemy locations.
Out the Window - Best battle pump out there for Rebels. Helps you win any battle.
Pressure - Stops Persuasion and Run, You Coward
Quick Draw - Free draw at level 2.
Rally the People - Resets all of your people for another round of beating.
Spoils of War - Get Challenge the Sun back.
Train to Aquroya - Gets you a character to kill permanently.

Advantage Details:
Lead by Example - Assign your characters that used Challenge the Sun, then reset with Rally the People.
Wheedling - Helps you go first to preempt any control tactics.

----------

Closing Words:
This deck wins most of the time against all decks, which is good enough for tournaments. Special thanks to Apple for annihilating the previous version of this deck with Envy, Luke for helping to change it around, and everyone else at Hammergirl Anime for helping me playtest it. Until next time, folks! Make sure not to unzip Psiren's shirt anytime soon!